28 songs, 28 acts but only one of them will make it to Rotterdam!
SVT, the Swedish broadcaster has just revealed the 28 hopefuls that will compete in February, during a press conference that took place at SVT headquarters in Stockholm. All 28 acts will fight for a spot in the grand final and hopefully getting the right to represent Sweden in Eurovision.4 of the 28 acts are previous Eurovision participants: Victor Crone (Estonia 2019), Robin Bengtsson (Sweden 2017), Anna Bergendahl (Sweden 2010) and Nanne Grönvall (Sweden 1996). No big changes regarding the show format are expected for next year's edition.
Previously announced Melfest 2020 hosts are former Alcazar singer Lina Hedlund, jazz/pop singer Linnea Henriksson, and comedian David Sundin. The 2020 edition of the world-famous Swedish Eurovision selection process will begin on the 1st of February.
The 28 acts have already been allocated to a semi-final, however, the running order for each semi-final will be revealed nearer to the actual shows.
Here they are:
Semi-final 1 / 1 February 2020 / Saab Arena
Linköping
Malou Prytz – "Ballerina"
Felix Sandman – "Boys with Emotions"
OVÖ – "Inga problem"
The Mamas – "Move"
Suzi P – "Moves"
Sonja Aldén – "Sluta aldrig gå"
Robin Bengtsson – "Take a Chance"
Malou Prytz returns after making the final in 2019 with 'I Do Me'. Felix Sandman returns after making the final in 2018 with 'Every Single Day'. The duo OVÖ ("Om Vi Överlever", i.e. "If We Survive") was formed in 2017 by the artists Finess and Ivory, who both have successful solo careers. Their music is influenced by pop, afro beats, and African dance music. The Mamas were formed as backing singers for John Lundviks winning song "Too Late for Love" in 2019. Suzi Pancekov, is a sixteen-year-old Youtube star who has created a fan base by interpreting Swedish hip-hop songs. Sonja Aldén has taken part in Melodifestivalen both as an artist and a songwriter, last in 2012 where she placed 6th in her semi-final. Robin Bengtsson won Melodifestivalen in 2017 with 'I Can't Go On' and represented Sweden in Kyiv where he finished fifth.
Semi-final 2 / 8 February 2020 / Scandinavium
Göteborg
Linda Bengtzing – "Alla mina sorger"
Dotter – "Bulletproof"
Anna Bergendahl – "Kingdom Come"
Thorsten Flinck – "Miraklernas tid"
Klara Hammarström – "Nobody"
Paul Rey – "Talking in my Sleep"
Mendez feat. Alvaro Estrella – "Vamos amigos"
Linda Bengtzing enters for the 7th time and becomes the artist competing as a solo act during the most Melodifestivalen years ever. Dotter first took part in Melodifestivalen in 2017, as a songwriter for Mariette's "A Million Years". The next year she took part as a singer herself, performing "Cry". Last year she took part as a songwriter for Lina Hedlund's "Victorious". Anna Bergendahl won Melodifestivalen 2010 but in Eurovision, she was narrowly eliminated in the semi-final, and thus is the only Swedish act to be denied qualification for the Grand Final at Eurovision. Last year she made the Melfest finals with 'Ashes to Ashes'. Thorsten Flink is a director and actor who has been a musician since the 1970's. In 2012 he made his Melodifestivalen debut, finishing 8th in the final with "Jag reser mig igen". Klara Hammarström is featured along with her parents and nine siblings in an SVT reality show. Klara is taking aim at music having released her debut single this year. Paul Rey started making hip-hop music as a teenager and had success under the stage name P.J. and had an American record deal. Mendez most recently performed in Melfest in 2018 with "Everyday", which became a major hit in Sweden. Alvaro Estrella has an outstanding track record as a backing singer and dancer including supporting Robin Bengtsson in 2017 at Eurovision.
Semi-final 3 15 February 2020 /Coop Norrbotten Arena
Luleå
Faith Kakembo – "Crying Rivers"
Amanda Aasa – "Late"
Albin Johnsén – "Livet borjar nu"
Drängarna – "Piga och dräng"
Mariette – "Shout It Out"
Anis Don Demina – "Vem är som oss"
Mohombi – "Winners"
Faith Kakembo started singing in church choirs. Earlier this year, she took part in the P4 Nästa talent contest, finishing 3rd. Amanda Aasa also participated in that competition and won her entry to Melodifestivalen that way. Both are up and coming talent in the Swedish music scene. In 2016 Albin Johnsén took part in Melfest as a singer together with Mattias Andréasson, making it as far as Andra Chansen. Drängarna have been scoring hits in Sweden since 1995 having more than 70 million streams on Spotify. Mariette has three top-five finishes at Melfest, most recently in 2018 with 'For You'. Anis Don Demina is a DJ, singer and YouTube star. He made his Melodifestivalen debut with a saxophone, backing Samir & Viktor when the duo made the final with "Shuffla" in 2018. Mohombi counts a Grammy award alongside Pitbull and the international hit 'Bumpy Ride' on his resume'. Last year he competed in Melfest and advanced to the final with 'Hello'.
Semi-final 4
22 February / Malmö Arena
Malmö
Hanna Ferm – "Brave"
Nanne Grönvall – "Carpool Karaoke"
William Strid – "Molnljus"
Jakob Karlberg – "Om du tror att jag saknar dig"
Ellen Benediktson & Simon Peyron – "Surface"
Victor Crone – "Troubled Waters"
Frida Öhrn – "We Are One"
Hanna Ferm returns after finishing third last year with the LIAMOO duet "Hold You". Nanne Grönvall has achieved one victory, two 2nd places and one 3rd place in Melfest and 3rd place in Eurovision in 1996. Last year she returned as a songwriter, for Arvingarna. William Strid is making his Melfest debut after participating in Swedish Idol and performing in the band The Audrey. Jakob Karlberg is another Idol alumni, and best known for "Fan va bra", a summer hit in Sweden in 2015. Ellen Benediktson is well known for eliminating Eurovision winner Helena Paparizou during a round of Andra Chansen and subsequently making it to the final with "Songbird". Simon Peyron is a co-founder of the metal band Outtrigger, which made it to the Second Chance (Andra Chansen) in the 2014 Melodifestivalen. Victor Crone represented Estonia at Eurovision in 2019 after winning Eesti Laul with the radio hit 'Storm'. Frida Öhrn was a member of the trio Cookies 'N' Beans, taking part in 2009 and 2013 editions of Melodifestivalen.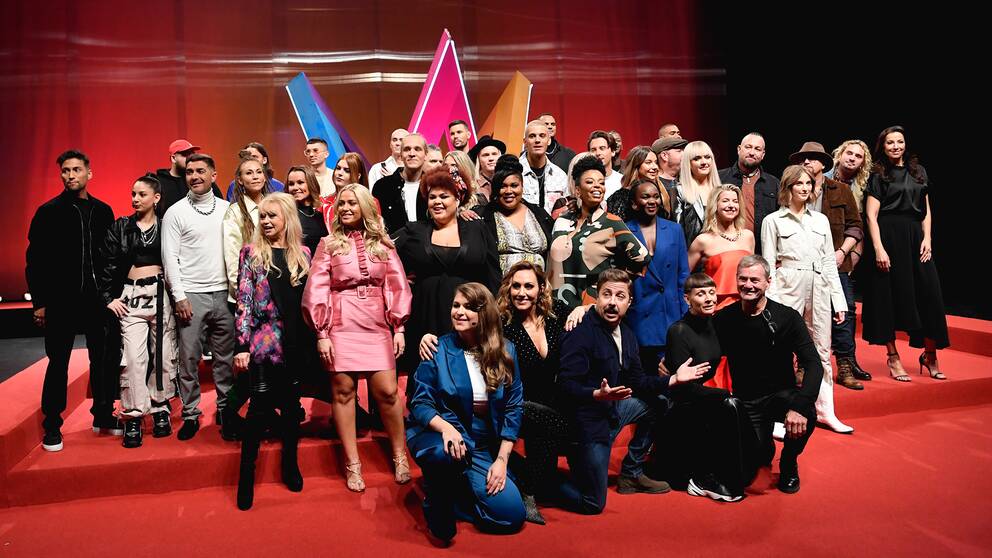 Who are you rooting for out of the 28 announced Melodifestivalen 2020 acts? Let us know in the comments!