Romania has chosen entry this evening for Eurovision 2013 through "Selecția Națională 2013".
12 acts have formed the Romanian nationa final for Malmö:
01.- Casa Presei – Un refren
02.- Narcis Iustin Ianău – Seven
03.- Freestay – Criminal mind
04.- Elena Cârstea Muttart – Spinning
05.- Luminita Anghel – Unique
06.- Ovidiu Anton – Run away with me
07.- Cezar – It's my life
08.- Cristian Prăjescu – The best thing in life is to love
09.- Electric Fence – Emilia
10.- Al Mike & Renee Santana – What is love
11.- Tudor Turcu – Hello
12.- Andrei Leonte – Paralysed
After all performances, 6 juries have casted their votes:
Then, those jury results have been joined to televote results and the final scoreboard has been closed as It follows: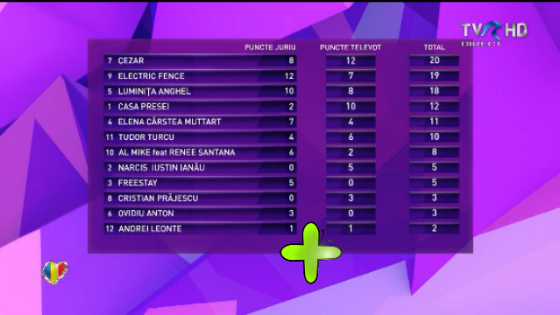 Cezar will represent Romania in Malmö with the song It's my life. He will perform at second semifinal of Eurovision 2013.
Good luck Romania!