We recently learned that Malou Prytz, the sixteen-year-old pop starlet from Ryd, Sweden is entering Melodifestivalen just one year after she made her debut with 'I Do Me' which earned her a spot in the Grand Final. Malou made history in 2019 by being the youngest performer to ever grace the Melfest stage.
This comes at a time where the juggernaut of Melodifestivalen has maintained international popularity and has been very very consistent in its victors. In 2014, when Sanna Nielsen won Melodifestivalen with 'Undo' and would then flirt with giving Sweden its 7th Eurovision victory it was also the end of a female presence at Eurovision for Sweden in the 2010s. And while the men that have gone to Eurovision in that space of time have achieved enviable results by anyone's measure – they have been consistently shy of earning the trophy. Can this fresh female face start the decade of the '20s off differently for Sweden? Maybe so, but first she will need to win Melodifestivalen – let's take a look at Malou's current resume.
'I Do Me' was a great way to start this story. A fresh young face with an all-female writing team provided the song that would see Malou nod to the 1995 film 'Clueless' as she boasted about staying true to herself no matter what.
And while the results of the Melfest scoreboard were less than flattering, this set Malou into orbit in the Swedish pop music scene. The song went top 10 in Sweden and soon was followed by a summer smash 'Left and Right'.
Malou then partnered with another star on the rise, Mille'. Mille' was gaining momentum in native Germany when the two released 'All Good'. This worked well for Malou to have a little exposure outside of her home country as the song became an airplay hit in Germany.
Malou also spent the summer of 2019 releasing her debut EP 'ENTER'
As for the 2020 Melfest entry, Malou promises a more mature sound – something that evokes Sia or Billie Eilish. It is called 'Ballerina' and while the texture of the song may be very different than the bop that was 'I Do Me' there are similar themes. Malou says that 'Ballerina' is about believing in yourself and going your own way. Malou will perform 'Ballerina' live from Linköping on 1st of February when Melodifestivalen 2020 debuts.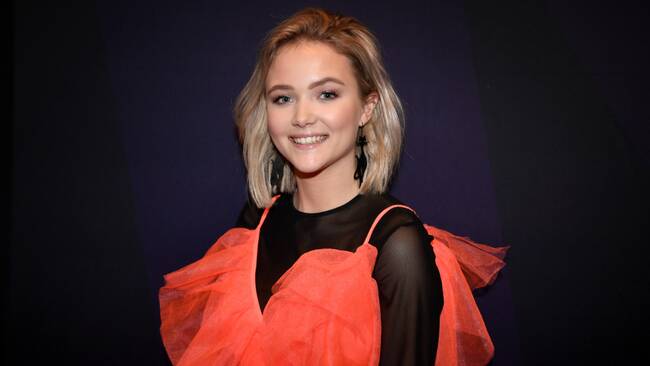 While we wait to hear the first clip of 'Ballerina' Malou is breathing life into her amazing 2019 by releasing a fresh track called 'If Aint' Love'. The three-minute track is full of delicious mid-tempo synth-pop moments that hint at 80's nostalgia but make sure to sound fresh for 2020.
Malou has had an impressive 2019. I suspect we are in for a treat with her 2020 offerings and beyond.