After 180 million plus viewers watched Eurovision from Tel Aviv around the world, and countless others picking up clips and articles – it is safe to say there are many gawkers into the Eurovision spectacle every year that will do nothing more than forget about the contest again until this time next year. However, what is interesting is what these people will remember about the contest and talk about to their friends. For me, safe to say the Americans I know who are blissfully unaware of the Eurovision fandom and bubble – will ask – did you see Madonna and who are HATARI?
I've been asked these questions enough times I've got the first part down – No.
The second question requires an article and video on its own!
We all know Hatari (Icelandic for 'hater') are an industrial / BDSM trio with the goal of anti-capitalism. The members, Klemens, Matthias and Einar met in school. They were believed to be disbanded before emerging to compete for the chance to represent Iceland in Eurovision in 2019. They have entertained the Eurovision fandom on and off stage this season. Their fashion and costume design is iconic and reflects a point of view. Their quick-wittedness have supplied us with endless sound bytes and quotable materials.
Before their Eurovision journey began, Hatari were already gaining tons of momentum in Iceland. They were a break out star at the country's hallmark music festival, Iceland Airwaves in 2017. They had also won several awards for their live performances including the prestigious Icelandic Music Award in 2018.
The feature done on them in 2017 should have warned us that we were in for more than just a musical treat. If anyone thinks that Klemens and Matthias were only pandering to their characters to curry favor with their Eurovision voters – they are sorely mistaken. A look back at their interview from 2017 shows how much they were already masters of perfecting delivering their message
Perhaps a fascinating piece of the cultural phenomenon that is the support Hatari received from a demographic that is normally associated with bubblegum pop rather than industrial BDSM; young children.
Ash Wednesday (Öskudagur) is celebrated in Iceland much in the way Halloween is in the US. But in 2019 the likes of Harry Potter, Wonder Woman, Black Panther and Hans Solo were joined by hundreds of leather-clad 'haters' inspired by the success of the band Hatari. The Partýbúðin costume shop even had a 'Hatari corner'.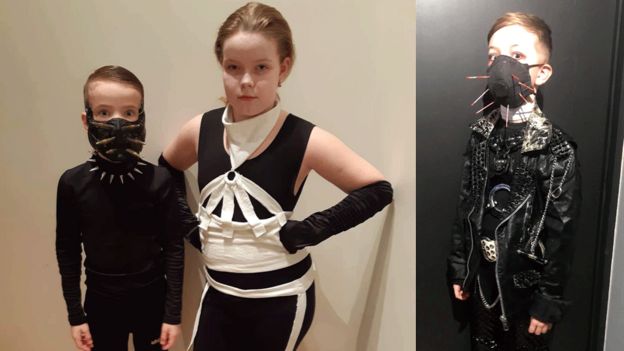 Even with all the momentum and tons of press on their side, it was soon clear to fans that a Hatari victory in Tel Aviv would be a far reach. Even though the charismatic band, striking costumes, striking staging inspired legions of fans – their sound and aesthetics also seemed to struggle to gain the mass appeal that a Eurovision winner would need.
But just because Hatari doesn't have the trophy doesn't mean they haven't won Eurovision 2019. I can assure you there are more Americans talking about Hatari in the weeks after Eurovision than Duncan Laurence. Jon Oliver helped with that mission by covering a piece in his show
Hatari has helped too by their use of the Palestinian flag moment in the green room which has since been reprimanded by the EBU.
And to top all of that off, Hatari have a brilliant new single with a Palestinian artist. The title Klefi / Samed (صامد (or "Chamber/Steadfast" refers to the Icelandic word for chamber, referring to an echo chamber, and the Arabic word for steadfast,
often used to describe the steadfast perseverance of the Palestinian people. Hatari vocalist, Matthías Tryggvi Haraldsson: "Klefi / Samed (صامد (is a thought on isolation versus solidarity, referring to the various echo chambers we find ourselves
trapped within. The Icelandic lyrics have been with us for some time, but hearing it in context with Bashar's lyrics and the themes he talks about as an artist living under occupation, we immediately had a feeling the two belonged together. Something clicked
as soon as we combined forces with Bashar."
The video was filmed in the Jericho desert in Palestine was released on the day of Hatari's homecoming concert in Iceland, Thursday 23 May. The group made headlines for its participation and active politicisation of Eurovision and started collaborating with Bashar Murad before making the journey to Tel Aviv.


All of this talk about Hatari have me looking forward to their performance at Iceland Airwaves this November. If you have the patience to wait two weeks, you can check the Hatari merchandise shop on their website and order yourself a tracksuit.
Will you be following Hatari now that Eurovision has ended? Are they the most talked about contestants if not the vote winners? Let us know in the comments