Moments ago the winner of Melodi Grand Prix 2020 was revealed. By winning the televote that was the basis for deciding this year's Melodi Grand Prix, Ulrikke was elected the Norweigan representative for Eurovision 2020 and will perform 'Attention' in Rotterdam.
SHOW RECAP
Last year's Melodi Grand Prix winners KeiiNO opened the show with a special version of the now-iconic 'Spirit In the Sky', the arrangement allowed for the song to quickly get to the chorus after a dramatic intro.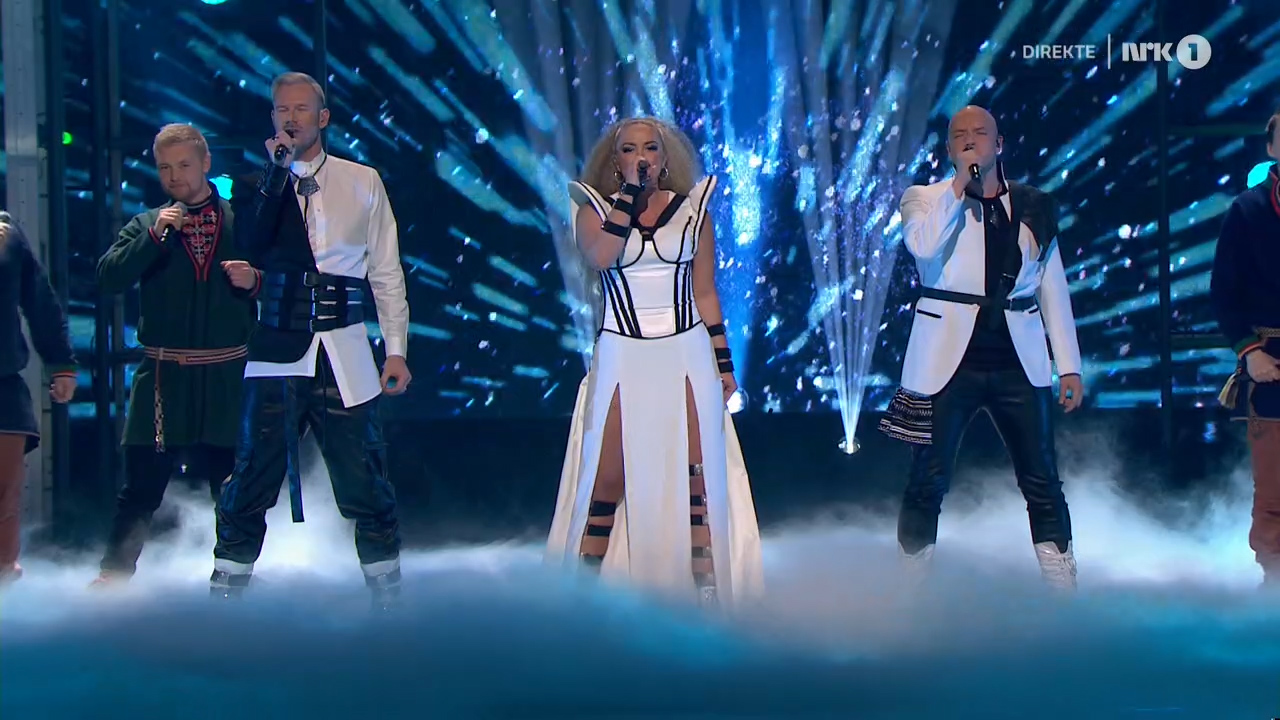 Raylee – 'Wild'
The show kicked off with a bang with Raylee and her song 'Wild'. The track has been a huge fan favorite since it's premiere at the first heat of this year's Melodi Grand Prix. Raylee did not disappoint her fans as she pulled off her routine flawlessly, giving us fuego and energy. Her recently signature ponytail served as a worthy accessory to her choreography.
DIDRIK and EMIL – 'Out Of Air'
Next up it was the brother duo which consisted of 2010 Eurovision representative, Emil and Melodi Grand Prix alum, Emil. The staging saw a stripdown since they performed the song live during the heat rounds. The dancers were scrapped and wardrobe change suited the song a lot better. The infectious chorus and arena-friendly hook keep the crowd going.
Magnus Bokn – 'Over The Sea'
Third, in the order, we have, Magnus Bokn with the Alexander Rybak / JOWST co-written 'Over The Sea'. Magnus gives us a sound like no one else in tonight's set, with the Fairytale-Esque violin refrain which has become synonymous with Rybak entries. He makes his way into the crowd and ends up on the island mid-arena for the last 30 seconds which offers a nice perspective for the sing-a-long feel.
Akuvi – 'Som du er'
Next up is Akuvi with the only song in the country's native language tonight, 'Som du er'. Akuvi appears super confident and in complete control of her vocals as well as her dance moves. The three minutes goes by super fast and the entry is a really nice touch of tropical vibes on a cold winter's night in Norway.
Kristin Husøy – "Pray For Me"
Fifth up is Kristin Husøy with "Pray For Me". The gospel-tinged number is all about its hand-clap and Kristin exploring her lower registers. She delivers a very solid vocal with simple staging with a very reserved look. Kristin's voice is enormous. The crowd is immediately tapping their feet along to this one.
Rein Alexander – 'One Last Time'
We're already halfway through as one of the fan favorites, Rein Alexander takes the stage. Rein is bringing a lot to entertain everyone tonight. He's got a dance troupe and can make a fire in his palm. Rein's formidable appearance and unbelievable vocal power make it hard to remember anything that came before him tonight.
Tone Damli – 'Hurts Sometimes'
Next up with 'Hurts Sometimes' is Melodi Grand Prix 2009 alumni Tone Damli. Tone has done well for herself in the past decade and this entry reflects a sensitive, thoughtful mid-tempo song. Tone starts the song offstage with dramatic camera effects.
Sondrey – 'Take My Time'
Sondrey is up next with 'Take My Time' and feels like a quick trip to Melfest. The staging is so slick with a Benjamin Ingrosso feel to it, it has us thinking of neighboring Sweden.
Ulrikke Brandstorp – "Attention"
From the opening orchestration of the co-penned Morland track 'Attention', it's not a shock to know that this was the ultimate winner. The song has a modern feel yet stands the test of having the makings of a classic ballad. Perhaps, this works even more because of Ulrikke's highly emotive nature. Fans will soon come to see she is a ball of energy and feeling. The performance tonight was just the tip of the iceberg for her talent. Dare I say this song is having the moment I've seen before with Salvador Sobral and last year's winner, Duncan Laurence.
Liza Vassileva – 'I Am Gay'
Closing the show is Liza Vassileva with the 2020 pride anthem 'I Am Gay'. This song received a mixed reaction in theme and in merit when it was released, but tonight if you got a look at the number of kids in rainbow-colored hair, clothes, flags and makeup – even the doubters would appreciate the moment this song has created.
RESULTS
After the 10 acts performed it was announced that the voting system went down. As a result, NRK had a backup jury select the top 4. They were:
Ulrikke Brandstrop – 'Attention'
Liza Vassileva – 'I Am Gay'
Raylee – 'Wild'
Kristin Husøy – "Pray For Me"
Then the top 4 were up for voting again as clips were played. The votes were reset after the first round so, viewers needed to keep voting for their favorites. After the second round of voting was complete, we learned the top two vote-getters were:
Ulrikke Brandstrop – 'Attention'
Kristin Husøy- "Pray For Me"
One last round of voting then happened and then the final votes were presented by region. The vote breakdown by region was as follows:
East – Ulrikke 102,263 / Kristin 69,696
West – Ulrikke 38,906 / Kristin 37,107
North – Ulrikke 17,152 / Kristin 19,932
South – Ulrikke 19,854 / Kristin 16,756
Central – Ulrikke 21,170/ Kristin 51,176
TOTAL: Ulrikke 200,345 / Kristin 194,667
Ulrikke will try to take Norway back to the Grand Final in Rotterdam. Last year, KeiiNO finished in the top 10 and were the televote winner. Do you think Ulrikke can match that or even do better? Let us know in the comments.